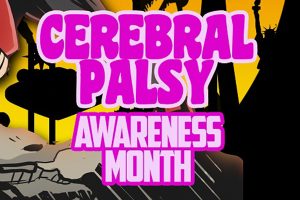 Los Angeles, CA — Adult and horror filmmaker and CEO of AltErotic studio Ivan recently announced that his annual Toy Donation Drive benefiting Cerebral Palsy Awareness will be kicking off later this month. The drive begins on Saturday March 26 at 9 pm PT at The Nerd Bar in Las Vegas, NV.
This event is open to those 21 and over working in the adult and wrestling businesses. The event is also open to the public with a donation of at least one toy at the door. The Nerd (TheNerd.com) — a popular video game, bowling alley, billiards and board game bar and entertainment space near the city's Freemont Street Experience — will dedicate a special play room specifically for Toy Drive attendees.
"Raising money for Cerebral Palsy Awareness Month on behalf of Shriners Hospital for Children means so much to me," said Misha Montana of the event. "My son was diagnosed with CP when he was three months old, and Shriners has provided us amazing medical care over the years. Their kindness and medical expertise gave my son so many wonderful gifts and tools."
Montana added that, "The Shriners doctors, nurses and care workers are saints for what they do, and I'm so happy to be able to put on an event to benefit them. This is a cause that's near and dear to my heart and it's another legendary, iconic, awesome event for Ivan's annual charity birthday."
Ivan, who has held similar charity events for children's hospitals, survivors of domestic violence and homeless shelters (among others) over the years, is especially excited about this toy drive. He is urging attendees to dress up in costumes such as wrestling or cosplay characters!
"I have been doing these events for over a dozen years, but this one hits closer to home as Misha's son has Cerebral Palsy. To watch him be such a wonderful caring child no matter what physical setbacks he has is inspiring," said Ivan.
"March is Cerebral Palsy Awareness Month, which made it a perfect opportunity to shed light on such an important cause. Thank you to The Nerd Bar for allowing us to spread out donation drives to Las Vegas this year. I can't wait to see people dress us as their favorite wrestler and donate toys!" Ivan added.